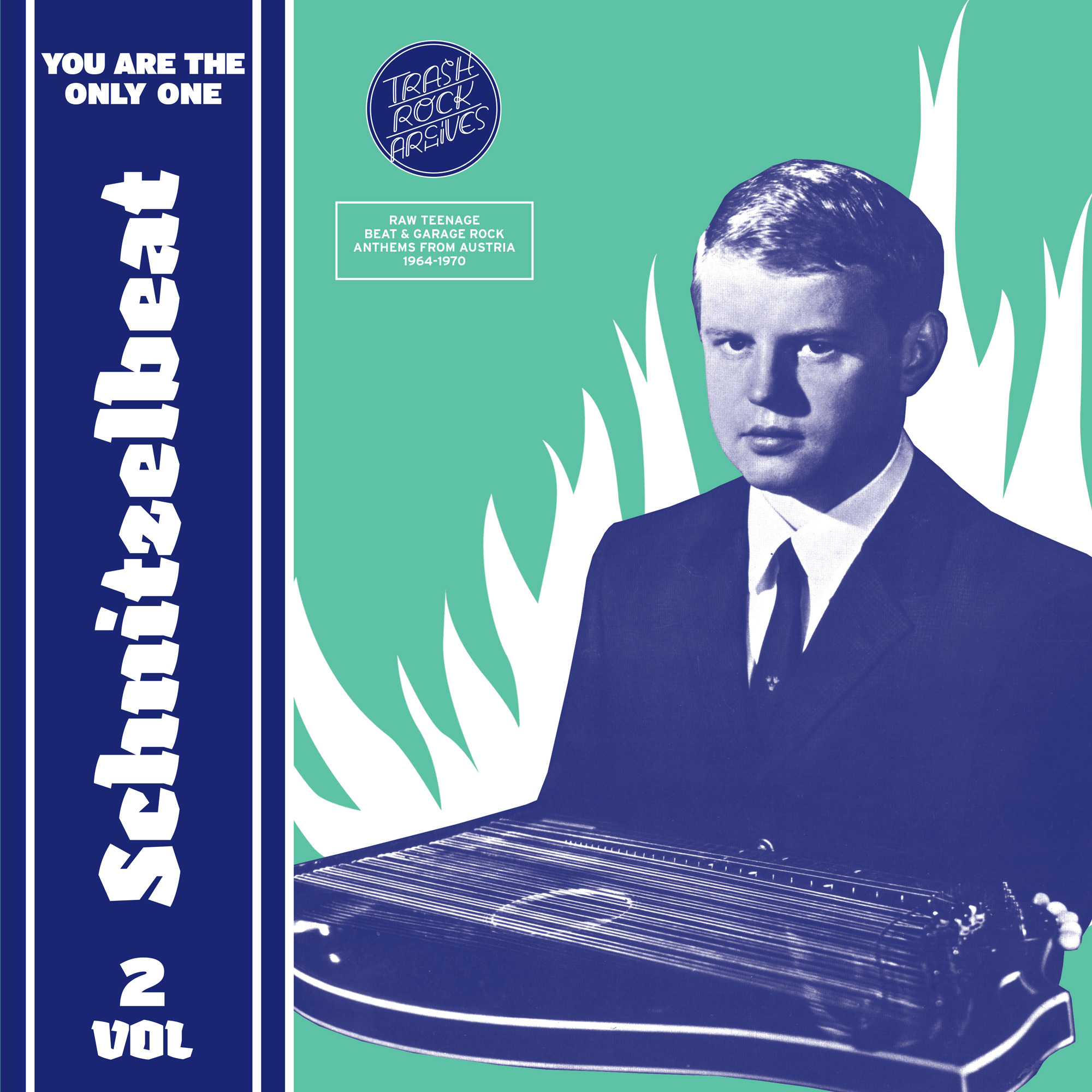 17 THE CHARLES RYDERS CORPORATION- I remember the blues (Alt. version) (1968) (CD only)
After the breakup of Viennese cult Beat band The Slaves, 16-year-old guitar prodigy Karl Ratzer turned into the Viennese Jimi Hendrix, and re-invented himself as Charles Ryder. His new band, a psychedelic Rhythm-&-Blues trio, initially performed as Charlie Ryder And The New Slaves and The Motion Crew. On board were Ratzer's childhood friends Wolfgang Hafenbrödl (bass) and Georg Hieblinger (drums), who had already played together in the local dance band The Hards. After touring Bavarian army bases in 1967, Ryder's new group recruited organist Wolfgang Meinhard and lead singer Ernst Brüll of the Viennese underground combo The Look. Now operating under the name Charles Ryders Corporation, the group promptly secured a permanent engagement with the local in-crowd Camera Club (heretofore San Remo), and were also asked to contribute to the soundtrack for Eddy Saller's sexploitation film "Schamlos"("Shameless"). "People came to the club and wanted songs",remembers bass player Wolfgang Hafenbrödl. "The head of the Viennese Decca branch suggested that we release two singles. It was all linked to this trashy movie production. A somewhat ominous, intransparent story."
The two singles were released by the Swiss Decca branch in April 1968, while alternative versions of the recordings were left with the film company for post production – where they remained, unreleased until today. Among them was an alternative version of the iconic Freakbeat tune "I remember the blues", which we are honored to present you with today in this compilation. Note: Recently, the Austrian reissue label Digatone compiled the previously unreleased soundtrack to "Shameless" on a carefully curated LP (DIG 005/2015). The record features the film music composed by Gerhard Heinz as well as the aforementioned lost tracks by the Charles Ryders Corporation.
Nach dem Zerfall der mythischen Wiener Beatband The Slaves verwandelte sich der gerade 16-jährige Ausnahmegitarrist Karl Ratzer in den Jimi Hendrix von Wien und erschuf die Kunstfigur Charles Ryder. Seine neue Band, ein psychedelisches Rhythm-&-Blues-Trio fimierte in den Anfangstagen noch als Charlie Ryder And The New Slaves, kurze Zeit später dann als The Motion Crew. Seine Verbündeten waren die Jugendfreunde Wolfgang Hafenbrödl (Bass) und Georg Hieblinger (Drums), die zuvor bei der lokalen Tanz-Formation The Hards gespielt hatten. Nach einer Tour durch bayrische Armee-Stationen, kam es 1967 zur Fusion mit der Wiener Underground-Combo The Look, deren Organist Wolfgang Meinhard und Leadsänger Ernst Brüll die Band von nun an verstärkten. Die Charles Ryders Corporation, wie die Gruppe nun hiess, erhielt umgehend ein Fix-Engagement als Hausband im In-Lokal Camera Club (ehemals San Remo) und wurde auch für den Soundtrack des Eddy Saller-Sex-&-Crime-Schundfilms "Schamlos" angefragt. "Es sind Leute in den Club gekommen, die Lieder von uns wollten", ruft sich Bassist Wolfgang Hafenbrödl in Erinnerung. "Der Chef der Wiener Decca-Vertretung hat den Vorschlag gemacht, dass wir zwei Singles rausbringen sollten. Das war irgendwie gekoppelt an diese Kommerzfilm-Produktion. Eine etwas undurchsichtige Geschichte."
Während die beiden Singles im April 1968 bei der Schweizer Decca-Dependence erschienen, verblieben alternative Fassungen der entstandenen Aufnahmen zum Zweck der Nachvertonung bei der Filmproduktionsfirma. Bisher verschollen, ist es uns eine große Ehre, hier die Alternativfassung des ikonischen Freakbeat-Ohrwurms "I remember the blues" präsentieren zu dürfen. Hinweis: Der bisher unveröffentlichte Soundtrack des Filmes "Schamlos" mit Musik von Gerhard Heinz wurde unlängst vom Re-Release-Label Digatone in einer liebevoll kuratierten LP-Edition veröffentlicht (DIG 005/2015). Auch die verlorenen Aufnahmen der Charles Ryders Corporation sind dort zu finden.