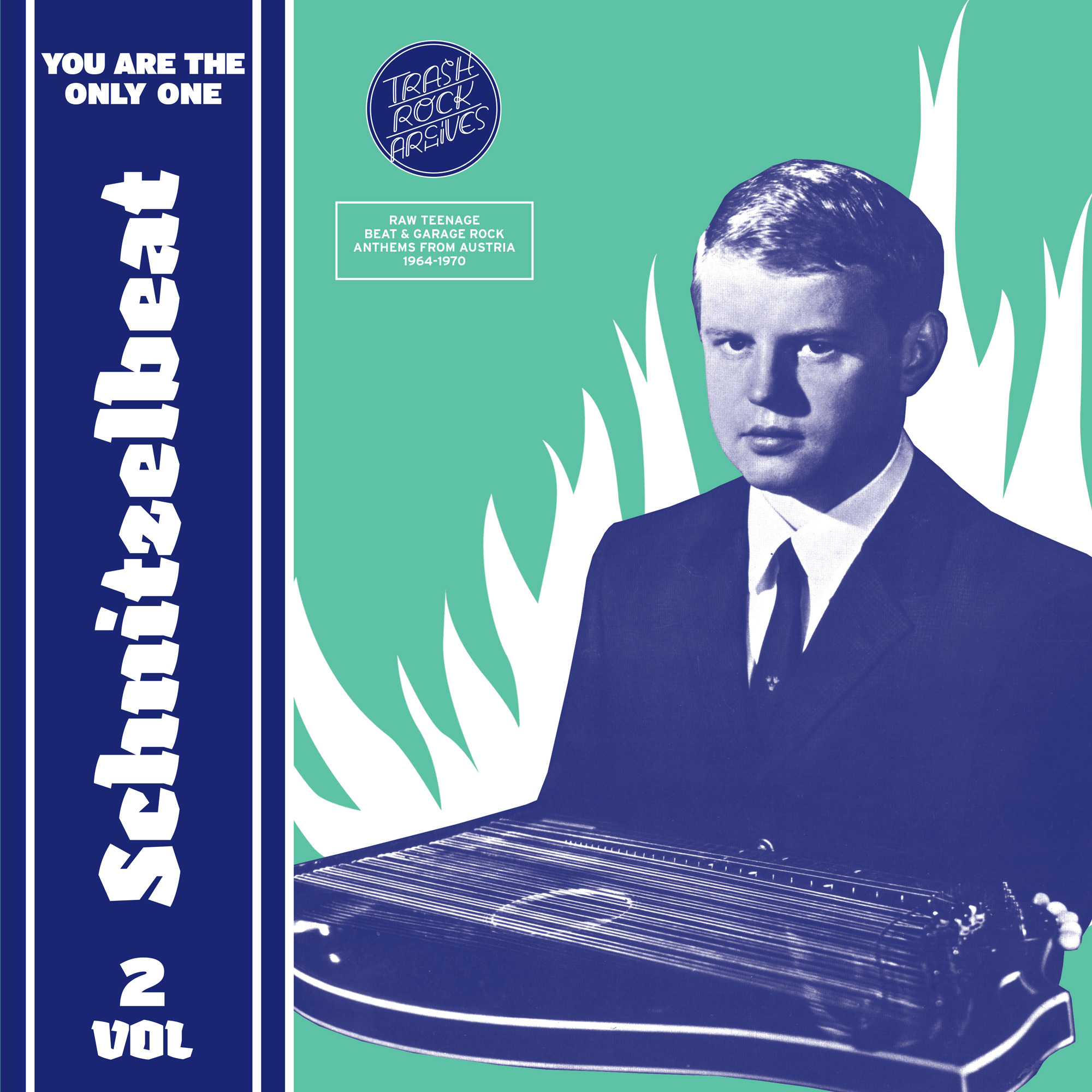 13 THE ROLETTS- You say yeah (1970) (CD only)
In the late 1960s, Carinthia, Austria's Southernmost province, still had an air of Small Town 1950s about it: "Commercial alpine folk music groups from our region, like Die Fidelen Lavantthaler, already had record deals with majors like CBS. But this was unthinkable for a Beat band", Bluesrock veteran Dieter Themel describes the lack of infrastructure. The fact that the local underground scene was documented on records at all owes to the visionary initiative of producer Gerd Kernmayer, who saw an opportunity to fill a market niche, came up an impressive-sounding name (Cosmos), and thus founded Carinthia's first pop label.
The Roletts, a combo from St. Veit that had been cutting their teeth on quite a number of Five-O'-Clock Tea Dances since 1965, were the ambitious Indie label's first recording artists. The original composition "You say yeah", which was released as an A side for their second single in 1970, is a captivating excercise in penetrating fuzz guitars, evocative lyrics with a message, and charmingly eccentric Austro-English. The band is not only an important discovery for regional musical history, but also shows that the era of Beatles and Stones imitations was slowly coming to an end even in the most remote corners of the country. Well done!
Kärnten, das südlichste österreichische Bundesland verströmte noch in den ausklingenden 1960ern den provinziellen Mief der 1950er Jahre: "Volksmusik-Gruppen aus unserer Region wie die Die Fidelen Lavanttaler hatten bereits Plattenverträge bei Major-Labels wie CBS in der Tasche. Aber dass jemand mal bei einer Beatband angeklopft hätte, war absolut undenkbar", analysiert Bluesrock-Veteran Dieter Themel die infrastrukturellen Mängel. Dass die Existenz einer lokalen Underground-Szene aber dennoch auf Tonträgern dokumentiert werden konnte, war Verdienst des visionären Musikproduzenten Gerd Kernmayer, der die Marktlücke erkannt hatte und über Nacht das erste Pop-Label Kärntens mit dem klingenden Namen Cosmos aus der Taufe hob.
Die Tanz-Combo The Roletts aus Sankt Veit, die seit 1965 aktiv war und sich bereits bei etlichen 5-Uhr-Tee-Veranstaltungen bewährt hatte, wurde auf diese Weise zum ersten Recording Artist der ambitionierten Indie-Plattenfirma. Die Eigenkomposition "You say yeah" erschien 1970 als A-Seite der zweiten Roletts-Single und besticht mit sägenden Fuzz-Gitarren und einer aufrüttelnden Message, vorgetragen in bezaubernd skurrilem Austro-Englisch. Im Sinne regionaler Musikgeschichte fraglos von höchstem Wert, verbreitet der Song aber gleichzeitig die Kunde, dass die Ära der Beatles- und Stones-Epigonen nun auch in den hintersten Winkeln des Landes allmählich zu Ende gehen würde. Sauber!