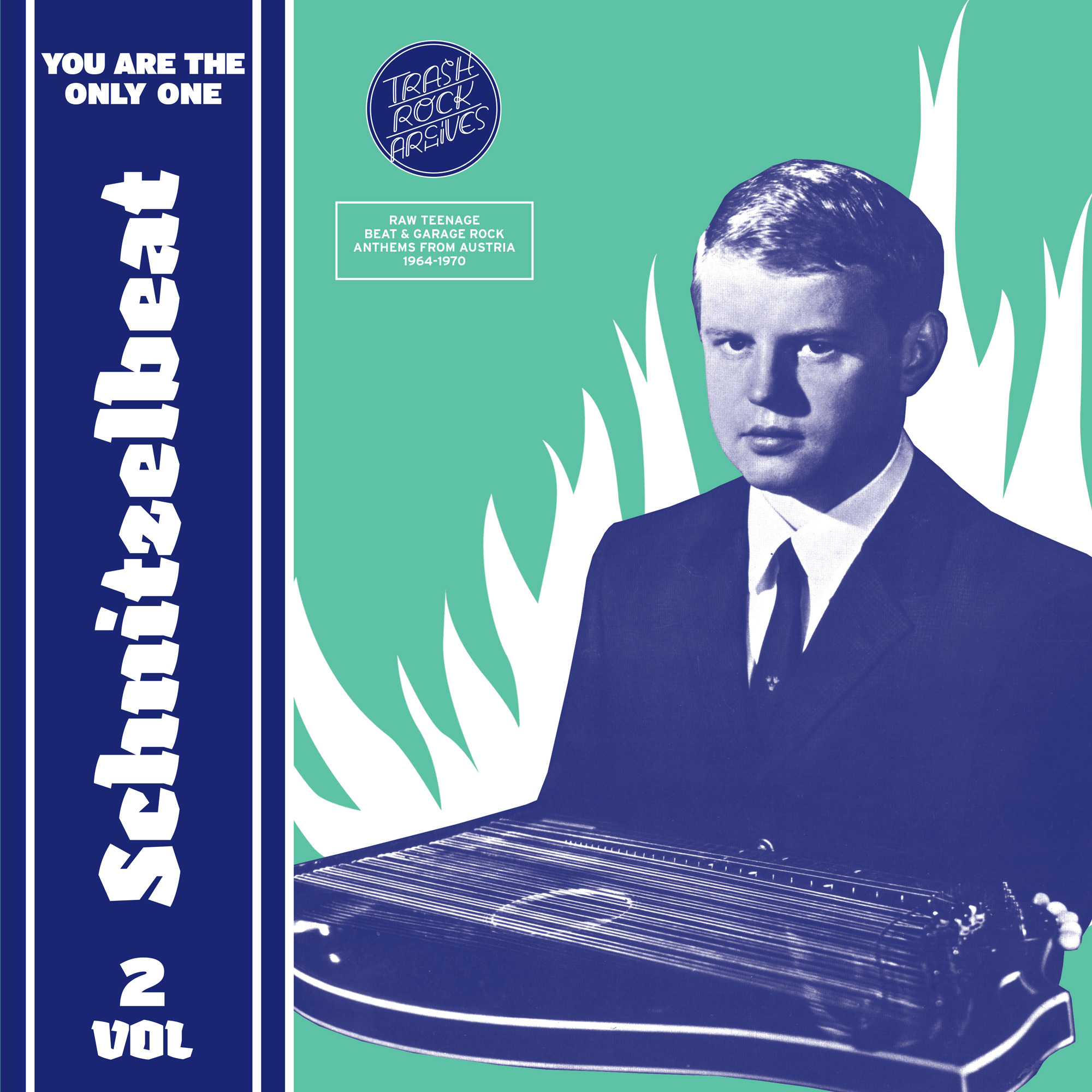 16 THE LAMBERTS- Crazy time (1970)

In the year 1966, in the Lower Austrian Weinviertel region, a handful of teenagers formed The Lamberts, and quickly managed to establish themselves as the Hollabrunn district's most prolific dance combo. "In the beginning, we still had the typical guitar sound; in 1968, we added an organ", remembers drummer Gerhard Schieder. "Our lead singer Hannes Beier was a fanatic Elvis-fan, and very good at imitating the vocal style, too."
Hear for yourself on this A side to their first single: "Crazy time", a scruffy organ shuffle, was recorded live in front of an attentive audience in a parish hall in Mistelbach, and would no doubt have had the potential to set the country's dancefloors on fire. With their jarring Garage sound, fuzz guitar lines, drawn-out drum solos, anarchist humor and off-the-wall Rockabilly vocals, the Lamberts present themselves as a noncommercial, hard rocking underground band. In their later career, the group became a local legend, who would, in the time-honored tradition of Austro-English, spell out their name as "Love And Music By Evening Rocking Top-Show." Hundreds of shows, a couple of line-up changes and a handful of other 7" releases followed, before the group disbanded in the mid-1980s.
Im Jahr 1966 entstand im niederösterreichischen Weinviertel die Teenager-Band The Lamberts, die sich rasch als die profilierteste Tanzformation des Bezirkes Hollabrunn durchsetzen konnte. "Anfangs war das noch ein klassischer Gitarrensound, ab 1968 dann mit Orgel", erinnert sich Drummer Gerhard Schieder. "Unser Leadsänger Hannes Beier war ein fanatischer Elvis-Fan und konnte auch den Gesangstil sehr gut imitieren".
Nachzuhören auf der A-Seite ihrer ersten Single: Der schäbige Orgel-Shuffle "Crazy time" wurde Ende 1968 in einem Pfarrsaal in Mistelbach live vor Publikum aufgenommen und hätte wohl das Potential gehabt, die Tanzflächen des Landes in Brand zu setzen. Ein scheppernder Garagen-Sound, Fuzz-Gitarren-Läufe, lange Drum-Soli, anarchischer Humor und durchgeknallte Rockabilly-Vocals zeichnen das Bild einer unkommerziellen, hart rockenden Underground-Band. Im weiteren Verlauf ihrer Karriere erzielten die Lamberts letztlich regionalen Legendenstatus, wobei ab den frühen 1970ern der Bandname in bester Austro-Englisch-Tradition für "Love And Music By Evening Rocking Top-Show" stand. Es folgten hunderte Live-Shows, etliche Besetzungswechsel und eine Handvoll weiterer 7"-Veröffentlichungen, bis sich die Band Mitte der 1980er schlussendlich auflöste.