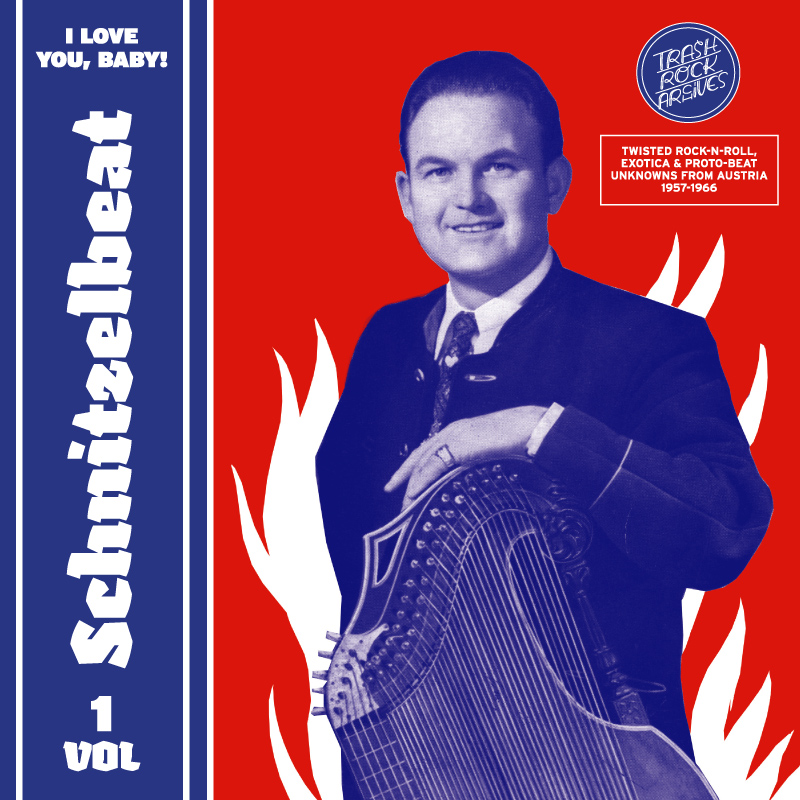 Schnitzelbeat Vol 1 – Liner Notes
Elvis Presley never played a show in Austria, which is a pity. But Bill Haley did. His first Vienna live performance took place October 22, 1958, and, as contemporary witnesses recall, it was just as convincing as expected. Somehow, however, the spark wouldn't ignite the crowd, and quite unlike in other places around the world, the Vienna show remained an innocent affair: the city youth did not rise to riots in the streets, no cars were set on fire, and the teenage audience would not even smash the seats of Konzerthaus that night. There's no denying that such a (admittedly controversial) jump start would have blasted the door wide open for local youth movements in their struggle for medial recognition. In the end, such a bang might have helped the small Kulturnation Austria in its long quest for identity, and it might even have sped up the otherwise painfully slow developments of native Pop music that were to follow. However, it is what it is.
The early phase of genuine underground Rock-n-Roll music in Austria is virtually lost, as it was hardly ever considered worth being recorded for eternity. This absence begs for an explanation, as historical research proves that domestic independent teenage music across the country in fact did exist. A first generation of Austrian amateur bands that was driven by an obsession for US-Rock-n-Roll arose between 1957 to 1960. This wave resulted in formations with illustrious names like The ABC Rockers, The Blue Gamblers, The Blue Jean Boppers, The Rock Five, The Shakers, The Shamrocks, The Strangers or The Thunderstorms, The Vienna Ramblers, … Band names that sound just great, but sadly never made it to being printed on a record.
Teenage musicians usually detested the tame, German-speaking adaptions of Rock-n-Roll (like the chart hits of Peter Kraus and his ilk), and turned to the modern music program of Radio Luxembourg instead. They quickly appropriated the outrageous things they heard on the airwaves to play enthused cover versions on small tavern stages in front of like-minded youths. As a result, small but wild live scenes formed all over Austria, which deplorably were cut off from all sorts of infrastructure, and from each other. Accordingly, protagonists of these scenes tend towards the curious impression that no one but themselves and their small circle of friends had ever played or even listened to Rock-n-Roll as early as they did. It does not come as a surprise Rock-n-Roll did not establish as a leading teenage culture in a country with such poor infrastructure.
All in all, Austrian Rock-n-Roll appears to be a genre of missed opportunities. It can also be seen as the point of origin for an unfortunate Austrian syndrome: from here on, the record industry would adopt all trends in Pop history two to three years later than other places in Western Europe. For a number of reasons, important developments in genuine teenage sub cultures did neither make it to the media in the late 1950s or early 1960s, nor did anyone care to record them on vinyl for the generations to come. For one, the national record industry did not see domestic artists fit to perform wild, timely, crazy rocking music – especially if they sang in English. An Austrian recording artist who did not perform in German was still seen as something unseemly and untrustworthy. For another, the labels were convinced that bands would not sell. Commercial productions thus always featured a local Schlager singer backed by established orchestras.
With Gerhard Mendelson's Austrophon Studios, Vienna had put itself on the map of the German-speaking Schlager world. The well-reputed Musikproduktion Süd aimed at producing profitable dance and popular music that would play well on radios. Every day, experienced arrangers would work with renowned instrumentalists from the Viennese Jazz scene to crank out potential hits for the millions that the leading German label Polydor catered to. Impressive, but certainly nothing for the young Rock-n-Roll aficionado.
While the Austrian record industry did not totally ignore timely teenager pop culture, they certainly shunned anything that sounded too American or British. Contemporary sales statistics suggest that this was an apt strategy for the domestic market. Gerhard Heinz, later film composer and leading recordist for Austrophon, remembers in talks with Trash Rock Archives: "An early Elvis Presley original sold about 10.000 times in Germany. A cover version of the same record by Peter Kraus that we did here in Vienna sold nearly a million times." Which is a remarkable number indeed. Rock-n-Roll adaptions in German soon became a leading formula for the market, and there is also a surprisingly long list of Austrian recording artist newcomers that have made their mark on vinyl as commercial German-singing Rock-n-Rollers: Susi Adorjan, Wolf Aurich, Hank Baxter, Robert Benett, Jörg Maria Berg, Ernie Bieler, Günther Frank, Ferry Graf, Rockie Jackson, Evi Kent, Micky Main, Fred Perry, Hedi Prien or Ralf Roberts, to list only a few recommendations.
Current discussions often neglect the fact that one of the most enticing qualities of Austrian music production is its penchant for novelty, i. e. for records with an exploitation angle that aimed at a small segment of buyers on the fringes of the mass market. A couple of spectacular recordings lure the usually so tame audience with glimpses at the strange and sensational worlds of sex and violence ("Maloja"), crime and horror fiction ("Geisterstunden Cha-Cha"), Exotica kitsch ("Chica Chica Bum") or contemporary Pop with a distinctively local flavor ("Blue-Jean-Jack aus Meidling").
1964 was the year when an Austrian beat band landed a number 1 hit for the first time. Granted, "Melancholie" by the Bambis was a sickly sweet Italian flavored tear jerker, but it was also the track that managed to attract the attention of the Austrian feuilleton towards Beat as a genre, and the groups that devoted themselves to it. The downside of this sudden fame was that the generations of bands to come would have to gear their would-be hits towards kitsch and mainstream sensibilities if they wanted to be recognized by the media. In this specifically Austrian dilemma lies the origin of Schnitzelbeat as a specifically Austrian genre.
After years of researching, unearthing and exploring, Trash Rock Archives of Vienna have finally managed to secure a comprehensive collection of popular music produced in Austria in the relevant years. This compilation is the first of its kind to offer an exhaustive insight in the history of Austrian Rock-n-Roll, Exotica and early Beat. With this collection, we are proud to present the best of all these worlds: visionary articulations of genuine Halbstarken subculture meet flashy Popcorn Radio Rock meet the earliest incarnations of raw Garage Rock and Proto-Beat rave-ups meet the shadiest moments where the commercial record industry went incredibly strange.
Elvis Presley gab nie ein Konzert in Österreich und das ist schade. Dafür war Bill Haley hier. Sein erstes Wien-Konzert fand am 22. Oktober 1958 statt und wie sich Zeitzeugen erinnern, war seine Show erwartungsgemäß überzeugend. Dennoch verlief die ganze Sache – anders als in anderen Metropolen der Welt – relativ harmlos: Keine Jugend-Unruhen auf den Straßen der Stadt, keine brennenden Autos, noch nicht einmal zerschmetterte Sitzplätze im Wiener Konzerthaus waren zu beklagen. Dabei hätte eine sichtbare Initialzündung halbstarker Teenager-Subkultur der kleinen Kulturnation Österreich in ihrer lang währenden Identitätssuche wohl gut getan und sämtliche schleppenden Pop-Entwicklungen der kommenden Jahre radikal beflügeln können. Doch es ist, wie es ist.
Aus der Frühphase der Underground-Strömung Rock-n-Roll in Österreich liegen uns so gut wie keine musikalisch relevanten, für den Massengebrauch gefertigten Tonträger vor. Dies ist insofern bemerkenswert, als dass historische Recherchen stets die Existenz von unabhängigen, genuinen Teenager-Rock-n-Roll-Szenen in rauen Mengen zu Tage befördern. In den Jahren 1957 bis 1960 wuchs in ganz Österreich allmählich eine erste Generation von Teenager-Amateur-Formationen heran, die dem amerikanischen Rock-n-Roll verfallen war und sich verruchte Bandnamen verpasste: The ABC Rockers, The Blue Gamblers, The Blue Jean Boppers, The Rock Five, The Shakers, The Shamrocks, The Strangers, The Thunderstorms, The Vienna Ramblers, ... Bandnamen, die sich wirklich hören lassen konnten, nur auf Tonträgern hören konnte man diese Bands eben nicht.
Diese jugendlichen Fans, die deutsche Peter Kraus-Adaptionen weitgehend als Verhöhnung des Genres empfanden, sogen indes mit fiebrigem Eifer das Musik-Programm von Radio Luxemburg in sich auf und interpretierten die gehörten englischsprachigen Rock-n-Roll-Titel alsbald vor einer kleinen Meute Gleichaltriger. Auf diesem Wege entstanden in ganz Österreich kleine regionale Szenen mit wilder Live-Beschallung, deren größtes Defizit aber naturgemäß in fehlender Infrastruktur und der non-existenten Vernetzung mit anderen Szenen lag. Kuriose Eigenwahrnehmungen wie etwa "außer unserem eigenen Freundeskreis in Kottingbrunn hat sonst niemand in ganz Österreich schon Rock-n-Roll gehört / gespielt" sind in diesem Zusammenhang keine Seltenheit. Bei einer derartigen Vielzahl grundlegender struktureller Mängel konnte der Rock-n-Roll als Leitkultur für österreichische Teenager freilich kein Land gewinnen.
Der österreichische Rock-n-Roll ließe sich als Genre der vergebenen Chancen subsumieren. Ebenso könnte hier der Ausgangspunkt eines ominösen Österreich-Syndroms verortet werden, sprich: Allen Trends der Popgeschichte stets zwei bis drei Jahre hinterher zu sein. Wichtige Entwicklungen originärer Teenager-Subkultur erfuhren im Österreich der späten 1950er und frühen 1960er Jahre kaum mediale Aufmerksamkeit und wurden nur selten für wert befunden, auf Tonträgern für die Ewigkeit konserviert zu werden. Die Gründe dafür sind vielfältig. Die Verantwortlichen der heimischen Schallplattenindustrie trauten es österreichischen Recording Artists noch nicht zu, nach internationalem Vorbild wilde und ungestüm-rockende Aufnahmen am Puls der Zeit zu machen, womöglich noch englischsprachige. Tatsächlich hatte ein österreichischer Recording Artist partout deutschzu singen, alles andere wurde im Sinne der Glaubwürdigkeit und der guten Sitten als unverkäuflich angesehen. Ein weiterer Grund für mangelnde Experimentierfreudigkeit heimischer Labels war der gängigen Einschätzung geschuldet, mit jungen Bands sei kein Profit zu machen: Auf Schallplattenproduktionen waren folglich stets kommerzielle Tanz-Orchester zu hören.
Durch die Etablierung der von Gerhard Mendelson gegründeten Austrophon-Studios hatte sich der Standort Wien mit der sogenannten Musikproduktion Süd zudem zu einer renommierten Hochburg deutschsprachiger Schlagerproduktion gemausert und setzte im fraglichen Zeitraum auf voll profitable und radiotaugliche Produktionen der Unterhaltungsmusik. Jeden Tag entstanden hier unter der Leitung erfahrener Arrangeure und unter Mitwirkung von Vollblut-Instrumentalisten aus dem Pool der Wiener Jazz-Szene potentielle Millionenhits für den deutschen Marktführer Polydor. Wirklich beeindruckend, aber nichts für junge Rock-n-Roll-Fans!
Seitens der österreichischen Plattenindustrie herrschte allerdings kein generelles Desinteresse an zeitgenössischer Teenager-Popkultur, es durfte bloß nicht zu wild, oder zu amerikanisch klingen. Einschlägige Verkaufszahlen gaben dieser Strategie im Übrigen durchaus Recht, wie sich der Wiener Film-Komponist Gerhard Heinz, ab 1958 Aufnahmeleiter der Austrophon-Studios im Gespräch mit den Trash Rock Archives erinnert: "Ein früher Originaltitel von Elvis Presley hat in Deutschland damals nur rund 10.000 Stück verkauft. Die Cover-Version derselben Nummer, die wir hier in Wien aufgenommen haben, hat sich in der Version von Peter Kraus hingegen fast eine Million mal verkauft." Beachtlich! Die Rezeptur Rock-n-Roll-Adaptionen auf Deutsch kam auch rasch mit dem österreichischen Recording Artist-Nachwuchs zur Anwendung und die Liste heimischer Schlagersänger/innen, die uns auf diesem Wege kommerziell orientierte Schallplattenproduktionen hinterlassen haben ist überraschend lang: Susi Adorjan, Wolf Aurich, Hank Baxter, Robert Benett, Jörg Maria Berg, Ernie Bieler, Günther Frank, Ferry Graf, Rockie Jackson, Evi Kent, Micky Main, Fred Perry, Hedi Prien oder Ralf Roberts,um nur einige der hörenswertesten Interpreten zu nennen.
Was im gängigen Diskurs allerdings allzu oft übersehen wird, ist die verborgene Stärke österreichischer Musikproduktion in der Erzeugung sogenannter novelty records, also von Schallplatten, die auf abseitige, nicht massentaugliche Superlative der Exploitation-Kultur zur Eroberung eines kleinen Publikumssegments setzten. In einigen spektakulären Momenten manifestierten sich in österreichischen Aufnahmestudios etwa spekulative Sex- und Gewaltfantasien ("Maloja"), Motive des Kriminal- und Horrorfilms ("Geisterstunden Cha-Cha"), Exotika-Edelkitsch ("Chica Chica Bum") oder zeitgenössische Pop-Entwürfe mit lokalem Kolorit ("Blue-Jean-Jack aus Meidling").
1964 schaffte es dann erstmals eine österreichische Beatband auf den ersten Platz lokaler Hitparaden: Der Smash-Hit "Melancholie" der Bambis war zwar nur eine picksüße Italo-Schnulze, dennoch war es dieser Aufnahme zu verdanken, dass der Strömung Beat und eigenständig agierenden Bands im österreichischen Feuilleton erstmals gesteigerte Beachtung geschenkt wurde. Jedoch gingen mit der medialen Aufmerksamkeit auch rigorose Auflagen hin zu Kitsch und Kommerzialität für die kommende Generation von Nachwuchs-Musikern einher. Dieses spezifisch österreichische Dilemma ist der eigentliche Ursprung des Schnitzelbeat, einem typisch österreichischen Genre.
Der Wiener Kulturinitiative Trash Rock Archives ist es in langen Jahren der Recherche und Erfassung relevanter Tonträger-Materialien gelungen, einen nahezu vollständigen Bestand österreichischer Musikproduktion aus dem fraglichen Zeitraum zu sichern. Dies ist die erste Zusammenstellung ihrer Art. Wir waren daher bemüht, einem interessierten Publikum einen differenzierten Einblick in die Geschichte des Rock-n-Roll, der Exotika und der Frühphase österreichischer Beatmusik zu verschaffen und in diesem Sinne nur das Beste aus allen Welten herauszuheben: Visionäre Lichtblicke echter Halbstarken-Subkultur als Vorboten des heimischen Beat- und Garage-Rock, die schillerndsten Aufnahmen des Teenager-Radiopop eines verloren gegangenen Goldenen Zeitalters sowie die verruchtesten Incredibly Strange Music-Momente einer kommerziell orientierten Schallplattenindustrie in ihren diffusesten Momenten der Aufbruchstimmung.