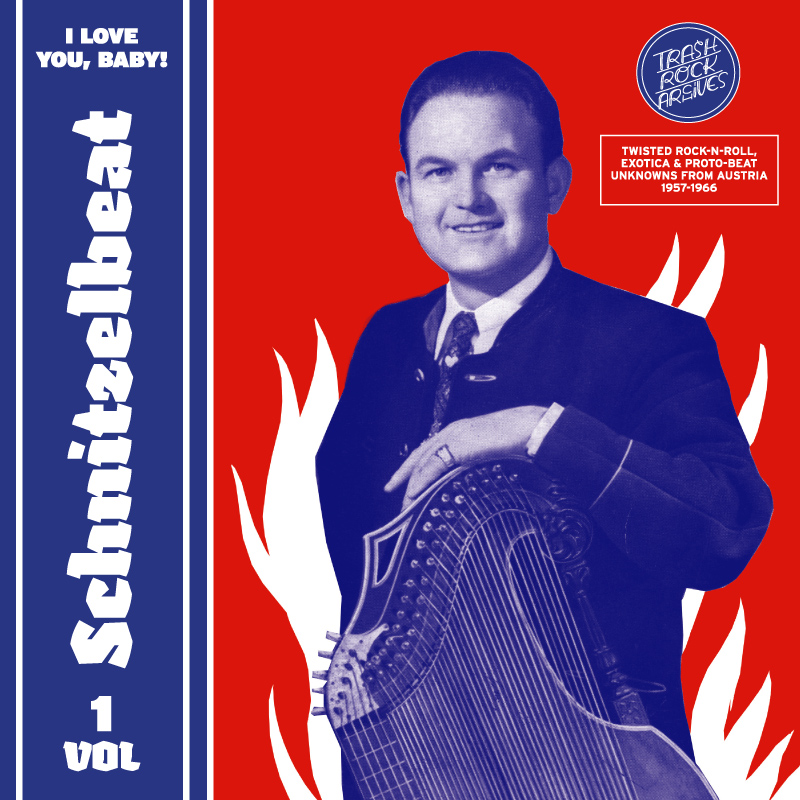 1 WERNER GAVAC- I love you, Baby!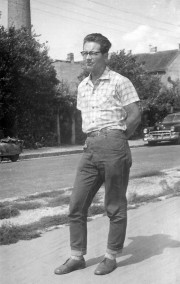 The song that started this compilation: One of the earliest artifacts of primitive, testosterone-driven and thoroughly naïve Austrian independent Rock-n-Roll music hails from a Viennese teenager named Werner Gavac who left us a dizzyingly whacky cover version of minor hit "I love you Baby". In October 1958, a short spell after Bill Haley had played his first Austria show the 16-year-old teenager put himself on the map by entering a coin-operated Voice-O-Graph speech-to-disc recording booth. (In case you're not aware of that long forgotten technical innovation, these audio recording facilities were strikingly similar to a basic photo booth-set-up: Drop coin in slot – watch for signal lights – talk/sing into microphone – wait two minutes until the disc is delivered. Et voila, you officially were a recording artist!) Young Mr. Gavac brought the change and his guitar, not that he could really play, but sure he could bang the shit out that wooden thing, and afterwards left the scene without a trace. 50 years later, the one-sided 6" acetate disc reemerged from the dusts of obscurity and found its way to the Trash Rock Archives. The very existence of "I love you Baby" is sensational and gives perfect insight into underground music's oppression in the land of Mozart, must and schnitzel: There were no producers, labels or related infrastructure far and wide that would have cared for spending a dime on the niche market of Teenage Rock-n-Roll, let alone on full-blooded amateur musicians.Unheard until now, this song is youth movement pioneering in perfection and an anarchistic salutation from a parallel universe where the king of Rock-n-Roll's name is misspelled Hasil Adkins. Even the label on this unique acetate disc warns us that this is an explosive affaire: "DANGER – INFLAMMABLE !" ...
Der Song, der dieser Zusammenstellung ihren Namen verlieh, ist zugleich eines der ältesten erhaltenen Tondokumente unabhängig produzierter Rock-n-Roll-Subkultur aus Österreich. Unter primitivsten Bedingungen aufgenommen, testosterongeschwängert und dennoch völlig unschuldig hinterließ uns der 16-jährige Halbstarke Werner Gavac mit der Cover-Version des Chart-Hits "I love you Baby" unwissentlich einen schwindelerregenden Meilenstein heimischer Teenager-Selbstermächtigung – und verschwand danach wieder spurlos von der Bildfläche. Das Einzelstück im 6"-Format entstand im Oktober 1958, wenige Tage nach Bill Haley's erstem Wien-Gastspiel in einer öffentlichen Tonaufzeichnungskabine der Firma Voice-O-Graph. (Produkt einer in Vergessenheit geratenen Geschäftsidee aus den USA, die sich vom Prinzip her am ehesten mit einem Passbildautomaten vergleichen ließe: Nach Münzeinwurf ging ein Licht an und gab dem Benützer die Möglichkeit, sich innerhalb von zwei Minuten mit einem akustischen Gruß an Freunde und Verwandte zu verewigen.) Am Tag der Aufnahme hatteGavac nicht nur die passenden Münzen sondern auch seine Gitarre bei der Hand und wie vorliegende Aufnahme ausreichend veranschaulicht, wusste er nur allzu gut, wie man mit so einem hölzernen Ding ordentlich Lärm machen konnte, ohne jemals wirklich darauf zu spielen. Die Existenz von "I love you Baby" ist ein bemerkenswerter Beleg für eine unterdrückte, originäre Teenager-Rock-n-Roll-Subkultur in Österreich und zeigt die herrschenden Defizite an brauchbaren infrastrukturellen Einrichtungen noch einmal deutlich auf: Weit und breit kein Produzent, kein Label oder sonst jemand, der einem musikbegeisterten Vollblut-Amateur damals die Tür zu einem Aufnahmestudio geöffnet hätte. Darüber hinaus liest sich dieses rare Tondokument auch als Bekenntnis zu einem anarchistischen Paralleluniversum, in dem der King of Rock-n-Roll nicht Elvis, sondern Hasil Adkins heißt. Eine explosive Angelegenheit, wie auch schon die Aufschrift am Etikett des Unikats eindringlich signalisiert: "VORSICHT – ENTZÜNDLICH !" ...