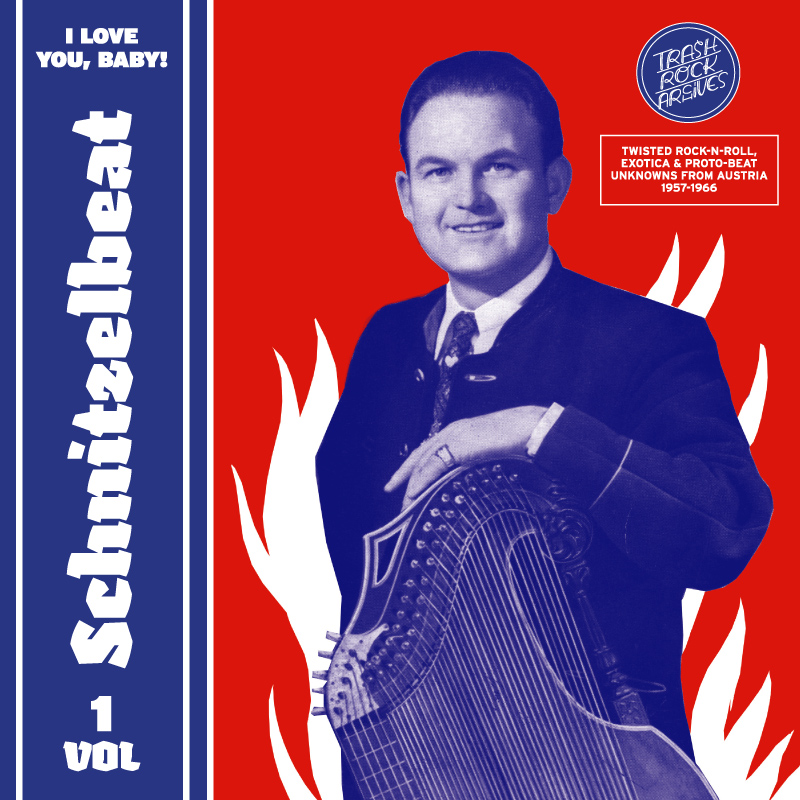 6 THE HUBBUBS- Nachts in Chicago

The well known Beat band The Hubbubs started out in the late 1950's as Shadows influenced instrumental rock group The Shamrocks. Their rehearsal room was in the rural north of Vienna, where a strong Heurigen community existed back in the day. Wienerlied composer and radio DJ Kurt Svab, a staple of that particular scene discovered them by chance when he took a stroll down the back alleys on his way to a Heurigen show and heard the group's raw and unusual Rock-n-Roll-sound from their practice basement. Svab was enthused, installed himself as the band's manager, and signed them for the music publishing house Figaro. But what happened next is pretty crazy – even for Austrian standards. After renaming the group to The Hubbubs, the busy promoter arranged a good deal of recording time and produced eleven (11!) 45s with them, which were all releases on the tiny, Munich based International label between 1963 and 1966. These released do a beautiful job in documenting a group's development from back alley amateurs to hard-boiled show professionals and are all strongly recommended. What you get here is the A-side of their fourth single from 1964, undoubtedly one the most intense tracks of the early Schnitzelbeat era, the lubricious sex & crime anthem "Nachts in Chicago".
Bereits in den frühen 1960ern erarbeitete sich die bekannte Wiener Beatband The Hubbubs einen zeitgemäßen Shadows-beeinflussten Gitarren-Rock-Sound. Unter dem ursprünglichen Namen The Shamrocks bezog die Formation ihren Proberaum im abgelegenen Norden der Stadt, der zu jener Zeit für seine lebendige Heurigenmusik-Kultur bekannt war. Wie die Legende besagt, trug eben dieser örtliche Umstand zur Entdeckung der Band bei: Als der umtriebige Wienerlied-Komponist und Radio-DJ Kurt Svab eines Tages auf dem Weg zu einem Heurigenbesuch durch die Straßen schlenderte, vernahm er im Vorbeigehen den harten und ungewöhnlichen Sound der Shamrocks aus den Gemäuern eines Wohnhauses und war angesichts des Gehörten hellauf begeistert. Er nahm die Band unter Vertrag und verpflichtete sie für das Verlagshaus Figaro. Doch was dann geschah, ist selbst für österreichische Verhältnisse ziemlich verrückt: Als neuer Manager setzte Svab nicht nur den neuen Bandnamen – The Hubbubs – durch, sondern buchte in den kommenden Jahren auch genügend Studiozeit, um insgesamt elf (11!) Singles mit seinen Schützlingen zu produzieren. Selten wurde die Entwicklung einer österreichischen Beat-Formation vom Amateurstatus hin zum ausgebufften Show-Profi so lückenlos dokumentiert wie auf diesem empfehlenswerten 7"-Set, das im Zeitraum 1963 bis 1967 auf dem kleinen Münchner Pop-Label International erschien. Vorliegende Aufnahme erblickte als A-Seite der vierten Single im Jahr 1964 das Licht der Welt und gilt zu Recht als eines der verruchtesten Dokumente der frühen Schnitzelbeat-Ära: Vorhang auf für den einzigartigen Sound der Hubbubs und ihre unsterbliche Sex-&-Crime-Hymne "Nachts in Chicago".