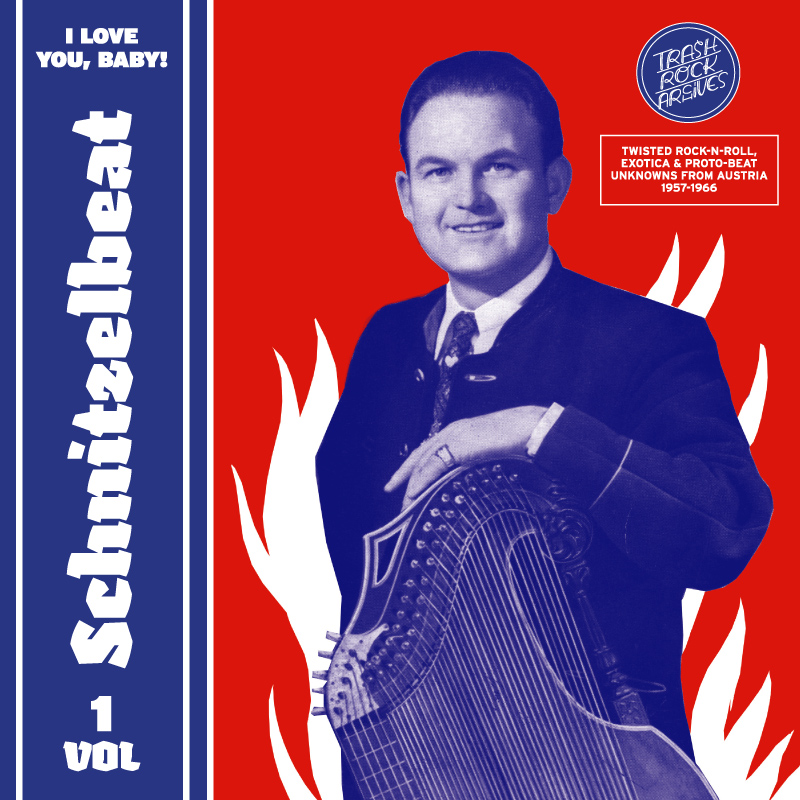 2 FRANK ROBERTS UND DIE BONGO-BAND MIT CHOR- Maloja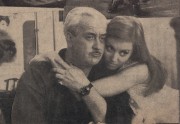 We continue our disturbing voyage into the lesser known realms of Austrian Pop culture with an ode to male delinquency in far and forlorn places. Here is a colorful, surreal exotica backdrop, against which Frank Roberts ingeniously lets us take part in his escapades with the local service personnel. The narrative of this indecent oddity does not quite add up: the punch-drunk postwar romance is also the story of a love-hate relationship, which ends with a rival being slain. As result, "Maloja" is not so much a song as an almost psychedelic Incredibly Strange Music audio drama. Born in 1919 as Friedrich Oskar Fronz, Viennese oddball Frank Robertsaka Frits Fronz made an incredible career as an exploitation artist that remains unequaled in Austria's history until today. Fronz, who was involved in anti-Nazi activities during the war, started out as author of raunchy pulp novelettes. In the mid 1960s, he became the busy director of sleazy nudie flicks. As a matter of course, most of these motion pictures – just to name a few: "Sex-Report blutjunger Mädchen", "Sexkarussell" or "Baron Porno's nächtliche Freuden" – featured Roberts in leading roles as nightclub playboy, lady killer and related types. In the early 1970s, he moved on to launch a career as activist/politician for the young Green Party. However, all his recording appearances – released between 1957 and 1965 – are worth investigating. Following the same recurring pattern, Roberts perfected a harsh sexy spoken-singing style that refused to follow the melody of any given composition. As a result, willing record buyers may indulge in a truly novel, highly hypnotic niche of contemporary Austrian Rock-n-Roll music: The exotica aspect of Schnitzelbeat. Folks, it's about time to give this guy the proper credits, and salute the genius of visionary wunderkind/madman Frank Roberts.
Die verstörende Expedition zur Erkundung selten beachteter österreichischer Pop-Geschichte befördert nun einen gottverlassenen Landstrich irgendwo auf Kuba zu Tage, wo uns ein Abgesang auf männliches Fehlverhalten erwartet. Wir finden uns inmitten einer surrealen, farbenreich inszenierten Exotika-Kulisse wieder, in der uns Frank Roberts freimütig von seinen amourösen Eskapaden mit einer ortsansässigen Barschönheit erzählt. Der dramaturgische Handlungsbogen von "Maloja" hinterlässt allgemeine Ratlosigkeit beim Zuhörer: Alkoholgeschwängert schlägt die heißblütige Nachkriegs-Romanze in eine degenerierte Hass-Liebe um, bis ein Nebenbuhler schließlich sein Leben lassen muss. Dies ist kein Song, sondern ein gehässiges, ansatzweise psychedelisches Hörspiel der Incredibly Strange Music! Der exzentrische Allrounder Frank Roberts wurde 1919 als Friedrich Oskar Fronz (alias Frits Fronz) in Wien geboren, ging während des Krieges in den Widerstand und durchlief ab den 1950er Jahren eine wahrlich unglaubliche Künstler-Karriere mit einem steten Hang zu spekulativen Sex-&-Crime-Genres aller Art: So verdingte er sich nicht nur als Autor von Groschenheftromanen, sondern etwa auch als Regisseur halbseidener Erotikfilme mit Verleihtiteln wie "Sex-Report blutjunger Mädchen", "Sexkarussell" oder "Baron Porno's nächtliche Freuden" und als männlicher Hauptdarsteller in seinen eigenen B-Movies. Mitte der 1970er wechselte er in die Politik, um Stadtrat für die junge Grünen-Parteizu werden. Seine Karriere als Recording Artist fand indes im Zeitraum 1957 bis 1965 statt und resultierte in einer Handvoll skurriler Aufnahmen, die allesamt dem gleichen, ungewöhnlichen Muster folgten: In seinen Songs schlüpfte Roberts stets in die Rolle eines übergeordneten Ich-Erzählers, vermied es dabei, sich mit der Melodie der Background-Orchestrierung einzulassen und perfektionierte indes einen bedrohlich wirkenden Sprechgesang, inklusive der sexy spoken parts. Die auf diesem Wege auf Vinyl gebannten Resultate sind hypnotische Novelty-Perlen am exotischen Abgrund österreichischer Rock-n-Roll-Musik und allesamt wert, gefunden und gehört zu werden. Roberts war ein visionäres Wunderkind des Trash und auch ein Vorreiter des Schnitzelbeat.Seine Verdienste um die heimische Pop-Gegenkultur sind noch lange nicht ausreichend aufgearbeitet.