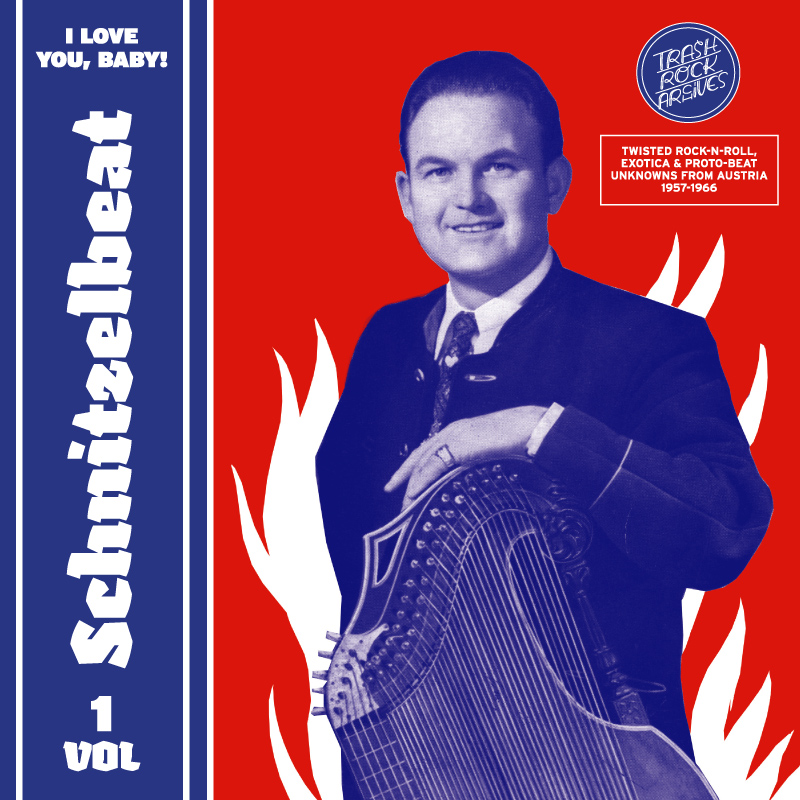 18 JERRY & THE CANNONS- Rosalie (Shake, Shake)
Next up is one of the loudest underground teenage bands from the early 1960s period in Vienna: A group that arose from an amateur Rock-n-Roll combo named The Twisters in the late 1950s, then got renamed to Jerry & The Twisters to finally become the band we're dealing with here: Jerry & The Cannons. At a very early age lead singer Christian Haller taught himself how to build high-capacity amplifiers and echo and reverb effect units – equipment known from England and the USA, that was ridiculously overpriced on the market at that time. As you might guess, high volume and spacey sounds were great gimmicks for every Rock-n-Roll band back in the day, but in this particular case these features rendered the group an overnight sensation in Vienna. Even on the part of the music industry, their fame didn't go unnoticed, as the band was pledged by label novice Viva Records to record a couple of songs at renowned Symphonia studio in February 1965. As a result of these sessions, the tracks were put out on two separate 45 singles – unfortunately only for promotional use, and, accordingly, in a very limited run. Virtually unheard until today, we are proud to present you these Viennese god-mothers of raw Garage Rock with a strong Proto-Beat anthem entitled "Rosalie (Shake, Shake)". Finally!
Als nächstes erwarten wir die mit Abstand lauteste Wiener Underground-Teenagerband ihrer Tage: Jerry & The Cannons entstanden in den späten 1950er Jahren aus der Rock-n-Roll-Combo The Twisters, die sich bald in Jerry & The Twisters umbenannte. Christian Haller, der Cannons-Leadsänger war indes fleißig am tüfteln. Bereits in jungen Jahren hatte er herausgefunden, wie man kostensparend sündteure Verstärkeranlagen sowie Hall- und Echo-Geräte nachbauen konnte: Equipment also, von dem Teenager damaliger Tage nur träumen konnten. Extravagante Effekte und hohe Lautstärke waren unverzichtbare Gimmicks für einen zeitgemäßen Rock-n-Roll-Sound jener Tage und brachte der Band einen gewaltigen Wettbewerbsvorteil gegenüber den Mitstreitern der Stadt. Jerry & The Cannons wurden mit ihren wilden und ohrenbetäubenden Shows über Nacht zu einem Fixpunkt der Wiener Underground-Szene. Selbst das renommierte Symphonia-Studio hatte nun Lunte gerochen und lud die Band im Februar 1965 zu einer Aufnahme-Session im Wiener Konzerthaus ein. Die auf diesem Wege entstandenen Songs erschienen auf zwei separaten 7"-Singles, die das regionale Label Viva Records zu Promo-Zwecken und deswegen in nur sehr geringer Auflagenhöhe vertrieb. Nur wer sehr viel Glück hatte, bekam die wilde Proto-Beat-Perle "Rosalie (Shake, Shake)" damals zu Gehör; dabei hätten sich Jerry & The Cannons als heroische Archetypen des Wiener Garage-Rock definitiv mehr Aufmerksamkeit verdient.