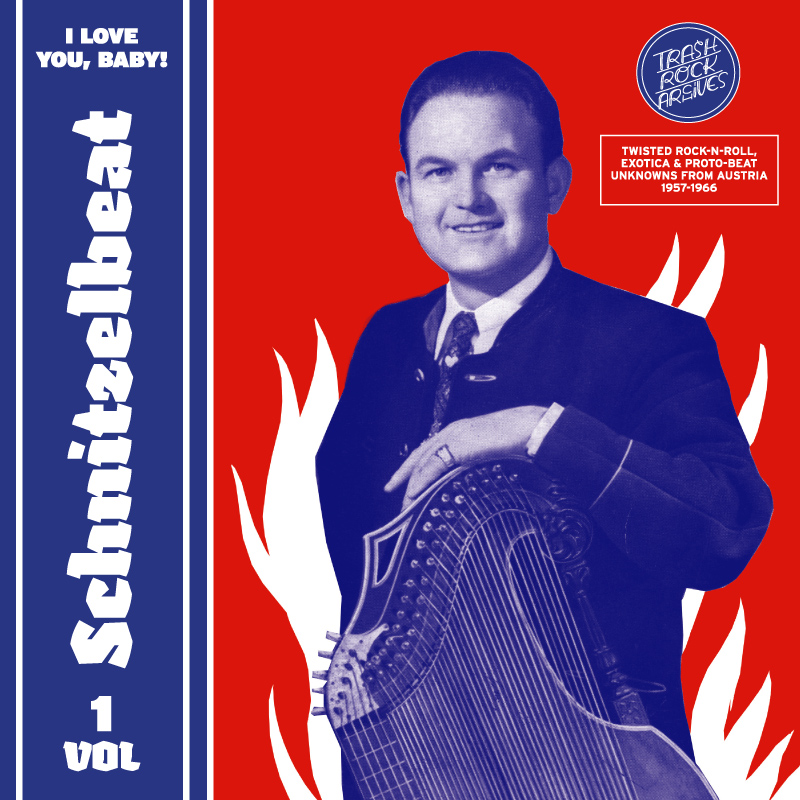 11 THE AUSTRIAN EVERGREENS- Tabu
The Austrian Evergreens were formed in late 1961 and as Rock-n-Roll-host/master of ceremonies Hannes Patek heard them banging it out in the godforsaken Transdanubia area one year later, he hired them on the spot as his backing group. In addition, he installed them as the house band of the "Junge Generation Ottakring"-party series located in Viennese Albert-Seever-Saal – yes, that's the club that became the legendary Star Club Wien a bit later – where the boys backed some of the greatest names in European 60s night club entertainment, such as Udo Jürgens, Ralf Bendix, Gus Backus or Mike Rogers. In late 1962, the Austrian Evergreens eventually surfaced on a shiny 45-disc waxed by the tiny Wienerlied folk music label Rex Roval. The session was arranged by Patek, who did a pretty wild German language-amendment of Bill Haley's "Where'd You Go Last Night" on the A-side, and invited the band to record whatever came to their mind for the flip: The group's tasteful choice – "Tabu" – speaks for itself. But regarding the pretty unorthodox recording conditions (which appear highly unprofessional even when measured against the standards of yesterday), it's a sheer miracle the output came out as lively, ferocious and intoxicating as it did. In talks with Trash Rock Archives organ player Peter Cabla remembers: "That particular day some people showed up at Star Club Wien bringing a Revox tape recorder and a handful of microphones. We played a couple of songs live on stage which they taped using their microphones. After on they said 'okay' and left again. That was it: The 'recording session' of our first single. There was no such thing as overdubs." This very recording remains one of the most mystical and deranged Rock-n-Roll-cover versions of the renowned Exotica-theme – yet, to date it remained virtually unknown in Austrian Pop history. But no longer, my friends!
1962: Als der junge Rock-n-Roll-Sänger und Conférencier Hannes Patek im gottverlassenen Transdanubien die erst im Vorjahr gegründeten Austrian Evergreens zum ersten Mal spielen hörte, heuerte er sie vom Fleck weg als seine Begleitband an. Zusätzlich engagierte er die mitreißende Wiener Tanzformation auch als fixe Hauscombo für seine wöchentliche Veranstaltungsreihe im Albert-Seever-Saal mit dem etwas schrulligen Namen Junge Generation Ottakring. Ganz recht, das ist der Club, der etwas später zum legendären Star Club Wien werden sollte. In kurzen Intervallen standen die Austrian Evergreens nun mit arrivierten Showgrößen der zeitgenössischen Unterhaltungsmusik auf der Bühne: Udo Jürgens, Ralf Bendix, Gus Backus oder Mike Rogers. Doch bereits Ende 1962 hatte die Band ein ganz anderes Bravourstück vollbracht und tatsächlich eine eigene Schallplattenveröffentlichung im 7"-Format hinterlassen. Veröffentlicht vom kleinen Heurigen-Label Rex Roval, war die Aufnahmesession von Patek initiiert worden, der für die A-Seite der Single eine ausgeflippte deutschsprachige Adaption des Bill Haley-Hits "Where'd You Go Last Night" auswählte und sich von den Evergreens dabei begleiten ließ. Danach entschied die Band, für die Rückseite das hypnotische Exotika-Intrumental "Tabu" einzuspielen – eine gute Entscheidung. In Anbetracht der unorthodoxen Aufnahmebedingungen grenzt es allerdings an ein Wunder, dass die resultierenden Aufnahmen derart wild und aufregend klingen. Wie sich Organist Peter Cabla im Gespräch mit den Trash Rock Archives erinnert: "An dem Tag waren auf einmal Leute im Star Club Wien mit einer Revox-Bandmaschine und einigen Mikrofonen. Wir haben ein, zwei Songs live auf der Bühne gespielt und die haben das einfach mit den Mikrofonen aufgenommen. Dann hat einer von ihnen 'okay' gesagt und sie sind wieder gegangen. Das war die 'Aufnahme-Session': So wie wir eben auf der Bühne gestanden sind und live geklungen haben. Die Platte wurde komplett ohne Overdubs aufgenommen." Besagte Aufnahme zählt heute zu den begehrtesten und gleichzeitig durchgeknalltesten Rock-n-Roll-Cover-Versionen des bekannten Exotika-Themas, in Österreich selber haben den Song aber bisher nur die ausgebufftesten Insider gehört. Das ändert sich nun.