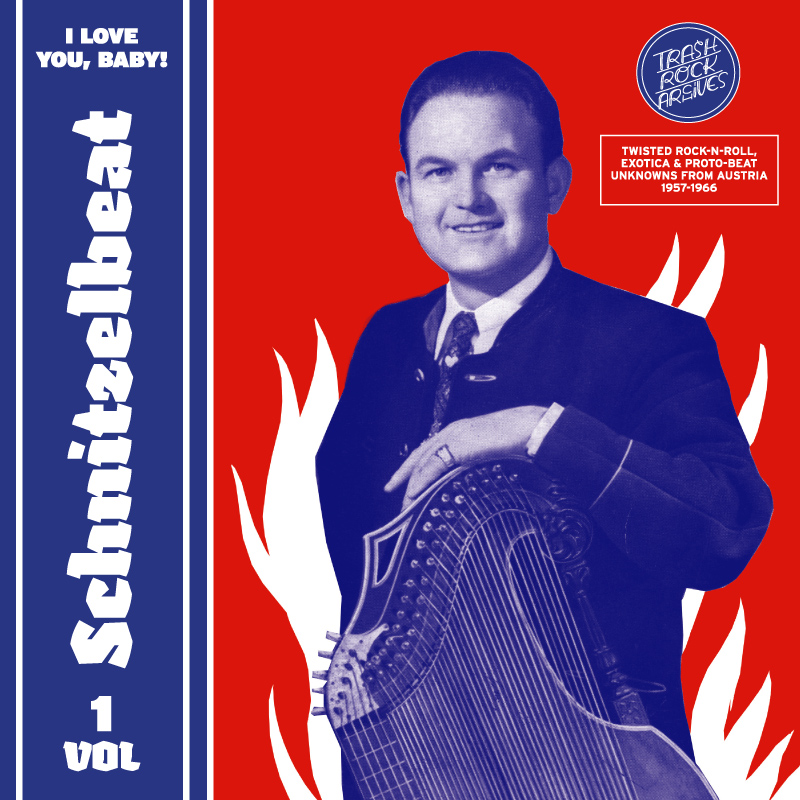 20 ROCKIE JACKSON- Baby, let's play house (1960)
In the late 1950s, Vienna born journalism student (and later film director/screenwriter) Erhard Jungnikl started to play shows as perky Hillbilly singer and Elvis Presley impersonator Rockie Jackson to supplement his income. With the toughest sounding name in Austrian show business Jackson quickly established himself as recording artist celebrity for the Swiss-based Elite Special label, and put out a handful commercially designed Schlager 45s within only two years. So far, so good. But Rockie's real passion was tough Rockabilly music. (No surprise, using that alias.) Despite the commercial success as German-language teen singer, he mailed out a demo to the management of Elvis Presley, and – unbelievably – got a reply. Rockie was invited to meet the King, who did his military service in Bad Nauheim (Germany) at the time, in person. As they eventually met, it seems that the chemistry was just right between the two Rock-n-Roll musicians: Rockie allegedly ate pudding with Mr. Presley (yes: pudding) and was even coaxed into playing and singing some songs for his idol. As our title character brought home his guitar with the handwritten dedication "For Rockie Jackson, the best of luck for the future! Sincerely yours, Elvis Presley", he must've been the proudest young man in the world. Apparently this amazing experience boosted his confidence in succeeding with a modern and international repertoire after all. Following long and painful negotiations with the management of Austrophon, Rockie somehow managed to get just enough recording time to capture eight (8!) raw Rock-n-Roll tunes within a couple of hours. Only downer: Producer Gerhard Mendelson refused to pay a backing band for the session. Now here it is: "Baby, let's play house" is most probably the closest any Austrian recording artist from that early period ever came to an original American Rock-n-Roll sound. Live in the studio without overdubs or technical implements, this is simply the real deal: Unsophisticated teenage Rock-n-Roll music stripped to the bones. Dig it!
Um sein Einkommen aufzubessern, begann der Wiener Publizistik-Student und spätere Filmschaffende Erhard Jungnikl in den späten 1950ern damit, Konzerte als Hillbilly-Sänger und Elvis Presley Imitator zu geben. Sein klingendes wie verruchtes Synonym wählte er dabei behutsam und mit Fingerspitzengefühl: Rockie Jackson. Das anerkannte Schweizer Elite Special-Label klopfte schon bald schon an und produzierte innerhalb von nur zwei Jahren eine Handvoll radiotauglicher Tanz-Schlager mit dem Teenager, was ihm nicht nur etwas Taschengeld sondern auch respektablen Celebrity-Status im deutschen Sprachraum einbrachte. Doch ungeachtet des kommerziellen Erfolges galt Rockies wahre Leidenschaft heißblütigem US-Rock-n-Roll härterer Prägung, dem Rockabilly. Eines Tages folgte er schließlich seiner Intuition und schickte ein Demoband an das Management von Elvis Presley. Unglaublich, aber wahr: Rockie erhielt ein Antwortschreiben, dass ein Treffen mit dem King höchstpersönlich im deutschen Bad Nauheim vorbereitet sei, wo Elvis zu jenem Zeitpunkt seinen Militärdienst ableistete. Wie die Legende besagt, war das Treffen sehr herzlich und die beiden verzehrten in einer ruhigen Minute Pudding miteinander. Ganz recht: Pudding. Offensichtlich mochte Mr. Presley sein österreichisches Pendant und ermutigte ihn, ihm doch noch ein paar eigene Stücke vorzuspielen, was Rockie gerne tat. Als er am folgenden Tag seine Gitarre stolz nach Wien zurückbrachte, war darauf nun eine handgeschriebene Widmung verewigt: "For Rockie Jackson, the best of luck for the future! Sincerely yours, Elvis Presley". Vermutlich war es ebendieses epochale Ereignis im Leben des jungen Sängers, das ihm das Durchhaltevermögen gab, die Austrophon-Verantwortlichen mit der hartnäckigen Bitte zu belagern, wilde, englischsprachige Rock-n-Roll-Songs im Studio aufnehmen zu dürfen. Dieoberste Instanz der heimischen Musikproduktion Gerhard Mendelson gab Rockies ungestümen Drängen letztendlich nach, behielt es sich aber vor, das Experiment in einem preisgünstigen Rahmen zu halten und verzichtete darauf, eine teure Begleitband für die Session anzuheuern. Allen Widrigkeiten zum Trotz entstanden innerhalb weniger Stunden höchst wundersame Zeitdokumente roher Teenager-Subkultur, wovon acht (8!) auf zwei separaten EPs im Jahr 1960 veröffentlicht wurden. Die beiden Platten bringen einen jungen Mann zu Gehör, der mit seiner Gitarre und dem Mut der Verzweiflung bewaffnet für seine elementarsten Überzeugungen eintritt, für primitiven Teenager-Rock-n-Roll! Live in einem Aufnahmestudio, zur Gänze ohne Overdubs oder technische Hilfsmittel, ist dies nicht nur die mitreißendste Annäherung eines heimischen Recording Artists an einen echten und originären amerikanischen Sound der Zeit, sondern auch die pure, unverfälschte Essenz der frühen österreichischen Rock-n-Roll-Ära. Aber das sollte man wirklich selbst gehört haben.