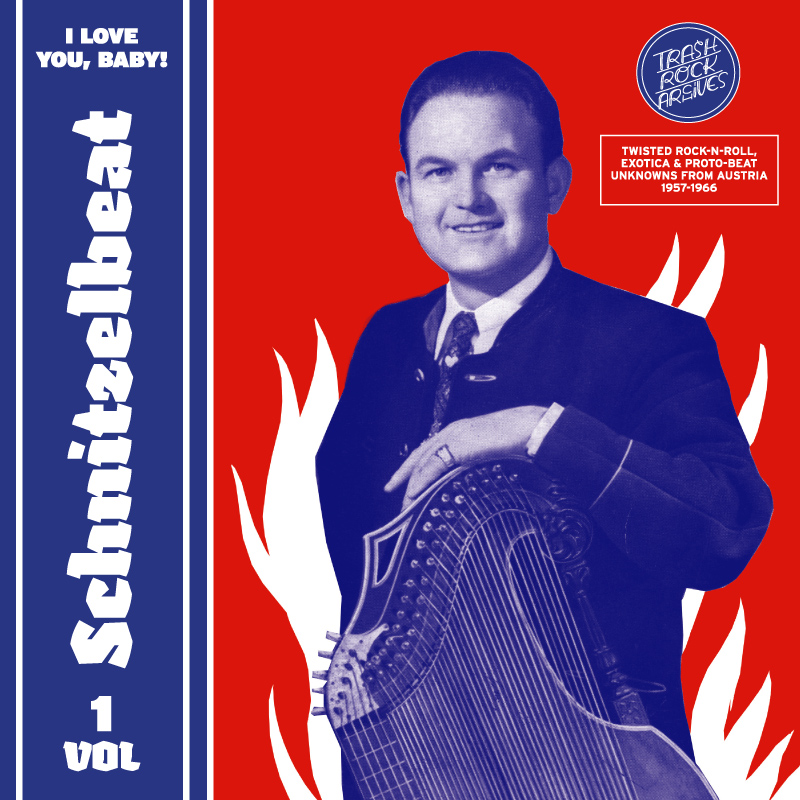 12 THE AUSTRIAN EVERGREENS- Olymp
About one and a half years later, same scenario: Again it was Hannes Patek taking his turn on side A – this time immortalizing his signature tune "Skinny Minnie" that he sung every week at Star Club Wien – whilst the Evergreens were told to perform as his backing group and record by themselves for the flip-side. Again, it was the small Rex Roval Wienerlied label that taped and waxed the songs, and again it was a super-spontaneous, unbusinesslike D.I.Y.-studio-situation built within an hour on the stage of Albert-Seever-Saal. Guitar player and later-Jazz-legend Harry Pepl hastily composed a tough "Apache" rip-off that would shape up as one of the finest instrumental-killers of the early Schitzelbeat era: "Olymp".
Das beinahe identische Szenario wiederholte sich rund eineinhalb Jahre später, als Hannes Patek seine aus dem Star Club Wien bekannte Kennmelodie "Skinny Minnie" auf der Bühne des Albert-Seever-Saals einspielte. Erneut erfolgten die Aufnahmen innerhalb kürzester Zeit live auf der Bühne, um dann vom kleinen Heurigen-Label Rex Roval gepresst zu werden. Und wieder waren es die Austrian Evergreens, die Patek auf der A-Seite einer Single begleiteten und anschließend grünes Licht bekamen, eine eigene Nummer für die Rückseite auszuwählen. Der Evergreens-Gitarrist Harry Pepl – Kennern österreichischer Jazzgeschichte als Ausnahmemusiker ein Begriff – komponierte in kürzester Zeit einen hart rockenden "Apache"-Rip-Off: "Olymp". In der Retrospektive betrachtet, das vielleicht umwerfendste Rock-n-Roll-Instrumental des frühen Schitzelbeat.