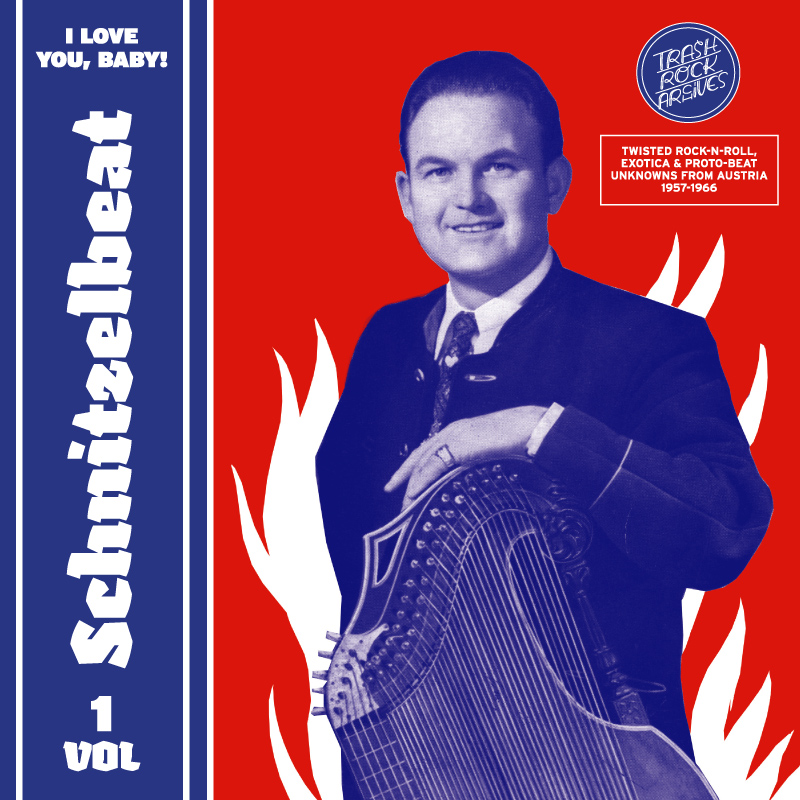 13 DOLF KAUER & THE CHARLY-COMBO- Blue-Jean-Jack aus Meidling
Before he became a member of famous 3 Lausbuben cabaret group, the eccentric Viennese entertainer Dolf Kauer already had a solo career going on in the early 1960s. His live performances often got dubbed as "Jazz parodies" or "humorous interludes" resorting to a repertoire of contemporary Schlager material chanted in tough Viennese vernacular – a long time (around ten years) before that idea got popular within a wider Austrian public... (See: "Austropop"). However, his only released output as a solo performer hails from the late 1961/early '62-period, when the ambitious songwriter duo Bruno Hauer and Josef Kaderka invited him to the tiny Rex Roval studio. The A-side of the resulting record, "Blue-Jean-Jack aus Meidling" is an intense Viennese idiom Rock-n-Roll oddity that sounds a bit like the lost answer song to Gerhard Bronner's hit composition "Der Halbwilde" immortalized by young Helmut Qualtinger. But quite contrary to that indisputable classic of Austrian cabaret Dolf Kauer's approach somehow managed to reach a level of endorsement for teenage counterculture. Along the way, "Blue-Jean-Jack" brings up the earliest version of an original alpine Rock-n-Roll-sound that hardly ever was considered to be recorded for eternity: Drums, double bass, piano and yes... accordion. A true jewel! Alone the very existence of this novelty 45 is sensational and has the capability to rewrite Austrian Pop history. No such thing as a good Schnitzelbeat collection without this song!
Als der exaltierte Wiener Entertainer Dolf Kauer zu einem fixen Mitglied der landesweit bekannten Humoristen-Truppe Die 3 Lausbuben wurde, konnte er bereits auf eine ereignisreiche Solo-Karriere in den frühen 1960ern zurückblicken: Zumeist als Jazz-Parodist oder gar als vergnügliche Show-Einlage angekündigt, bediente er sich bereits sehr früh eines zeitgemäßen Schlagerrepertoires, das er im breitesten Wiener Dialekt zum Besten gab, was seinen Bühnen-Shows naturgemäß einen hohen Wiedererkennungswert bescherte. Ein wirkungsvolles Rezept, das in der österreichischen Popmusik ja bekanntlich noch öfters – wenn auch erst ein knappes Jahrzehnt später – zu breitenwirksamer Anwendung gelangen würde (Vgl.: "Austropop"). Der einzig erhaltene Beleg der erstaunlichen Pionierarbeit des Dolf Kauer stammt ungefähr aus dem Zeitraum 1961/62, als er vom stadtbekannten Songwriter-Duo Bruno Hauer/Josef Kaderka zu einer Aufnahmesession ins winzige Rex Roval-Studio eingeladen wurde. Die A-Seite der auf diesem Wege entstandenen Single, "Blue-Jean-Jack aus Meidling" ist eine intensive Rock-n-Roll-Kuriosität mit erwartungsgemäß einschlägigem Lokalkolorit und klingt oberflächlich betrachtet wie ein obskurer Antwortsong auf die Gerhard Bronner-Komposition "Der Halbwilde" in der Version des jungen Helmut Qualtinger. Doch ganz im Gegensatz zu jenem unbestrittenen Klassiker der Wiener Kabarett-Geschichte, erreicht Kauers Adaption des immergrünen Rebel without a cause-Themas eine seltsame Metaebene der Patronanz und Fürsprache für jugendliche Teenager-Gegenkultur der Zeit. Ganz nebenbei bringt der Song auch noch die ursprünglichste Version eines originär alpinen Rock-n-Roll-Sounds aufs Tapet, der in dieser Form nur sehr selten auf Langspielplatten dokumentiert wurde: Schlagzeug, Kontrabass, Klavier und ja, richtig ... Akkordeon. Ein wichtiges Zeitdokument, dessen bloße Existenz die österreichische Popgeschichte um eine gänzlich neue Dimension erweitert. Der "Blue-Jean-Jack aus Meidling" sollte folglich in keiner gut sortierten Schnitzelbeat-Sammlung fehlen.