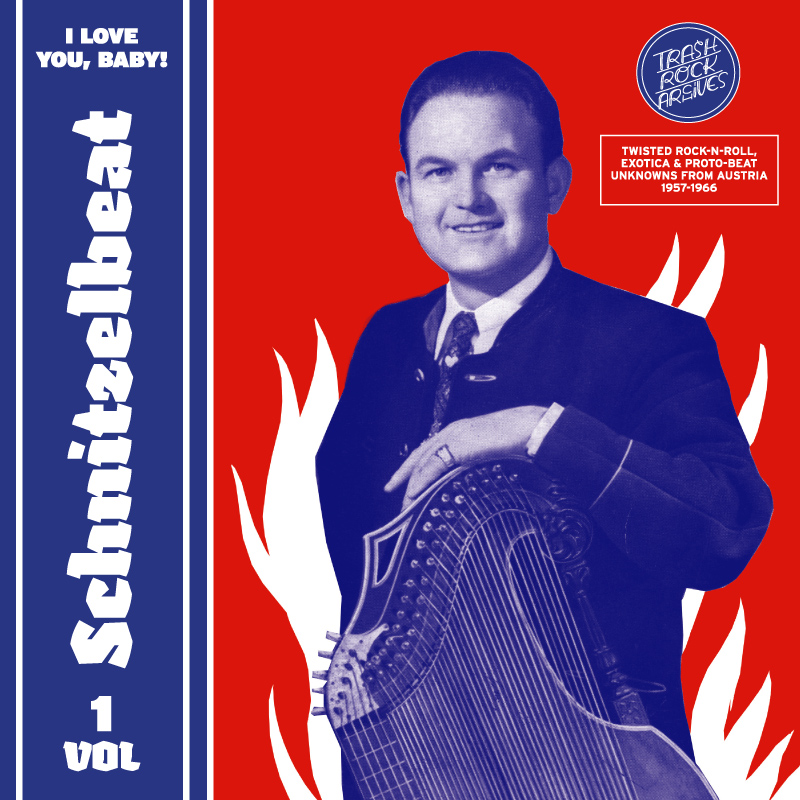 16 THE TRAMPS- Gran Chaco
Novelty-alarm! Named after the inhospitable hunting land area of the Andes, "Gran Chaco" is not only a relaxed rocker ideally suited for heating up your private Schnitzelbeat parties, but also one raw gem of Austrian Pop culture dipping into the Incredibly Strange Music coolness of contemporary Pop music. Written by Hans Lang, the guy that also composed the famous "Mariandl" post-war Schlager and co-produced by Kurt Svab of Hubbubs-fame, nothing is really known about the identities of the recording artists involved. As no traces of a local stage-band called The Tramps exist in that particular era, and no connections to the German ("Am Missouri") or Belgian ("Ali Tomahawk") groups of the same name could be detected, it's quite likely that Lang and Svab casted a bunch of Viennese studio-musicians to record this jazzy and brass-filled dance instrumental. However, with "Gran Chaco" these pioneers left us an outstanding vanguard vision of a self-contained alpine Jazz Pop sound – quite needless to say that this specific sub-genre creation was not fit to survive at all.
Novelty-Alarm! Benannt nach einem ungastlichen Landstrich in den Anden, ist der relaxte Instro-Rocker "Gran Chaco" nicht nur die erste Wahl, um die häusliche Schnitzelbeat-Party anzuheizen, sondern auch aus musikhistorischer Sicht ein absoluter Glücksfall. Die Aufnahme vollbringt das seltene Kunststück, coole Jazz-Motive alpiner Prägung mit zeitgenössischem Pop der Sorte Incredibly Strange Music zu vereinen. Unglaublich, aber wahr: Komponiert wurde die Nummer von Hans Lang, also demselben Songwriter, der mit "Mariandl" auch für eine der größten Millionen-Schnulzen der Nachkriegszeit verantwortlich war. Auch Tausendsassa Kurt Svab, Manager der Hubbubs nahm Anteil an den Aufnahmesessions, doch leider ist dies schon alles, was sich mit Sicherheit über "Gran Chaco" sagen lässt. Da keine Spuren einer österreichischen Liveband aus dem fraglichen Zeitraum mit der klingenden Bezeichnung The Tramps existieren, wie auch offenkundig keine Verbindung mit den deutschen ("Am Missouri") oder belgischen ("Ali Tomahawk") Formationen gleichen Namens besteht, ist die naheliegendste Vermutung die, dass Lang und Svab seinerzeit ein Orchester versierter Studiomusiker für die Recordings angeheuert haben. Erstaunlicherweise ist hier, unter Jazz-Anleihen ein futuristischer Gegenentwurf eines eigenständig österreichischen Pop-Sounds gelungen – völlig unnötig zu erwähnen, dass sich die Idee damals nicht durchsetzen konnte.